Art Mattson
August 4, 1938 – July 11, 2021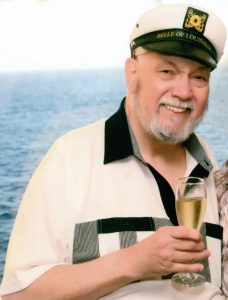 The Art Mattson Memorial Scholarship is named for OC Mensan Art Mattson, who passed away at the age of 82. Art joined Mensa in 1978 and became a Life Member of Mensa.
He grew up in the suburbs of Chicago.  He attended college on a Chick Evans Scholarship for golf caddies. He graduated in 1965 from the University of Illinois with a Bachelor's degree in Accountancy and he earned his CPA in 1967.
Early in his career he worked in public accounting and then for United Airlines in Chicago. He left the Midwest for a more pleasant climate and first moved to Northern California. In 1977, he moved to Orange County, where he eventually settled in Orange. He retired in 1999, after being CFO of Goodwill of Orange County for about ten years.
Art was a key figure throughout Orange County Mensa's 40+ years. He was instrumental in the formation of OC Mensa in 1980 and he was the group's first president. He continued serving Mensa in leadership positions on the local, national and international levels. (See below for a partial listing of his Mensa leadership roles.) He won many awards for his generous years of service, including American Mensa's prestigious Margo Award, the 17th recipient of the award. He was also extremely proud of the fact that OC Mensa named him "Mr. Orange County Mensa" in 2016 in recognition of his contributions through the decades.
Art met his wife of 29 years, Angie, through Mensa.
To keep his mind active, he created and solved puzzles and brain teasers. He is the author of two books, Colonel Foolry's Brain Teasers and Colonel Foolry's Collection of Treasure Hunts.
He was an avid baseball fan (and especially a diehard Cubs fan) and he also followed golf, basketball, and football.
Art's Mensa Leadership Roles
American Mensa
4 yrs – American Mensa Treasurer (1985-89).
4 yrs – RVC representing Region 9 (1983-85 & 2009-11).
1990 Annual Gathering Chair – Anaheim.
5 yrs – Chair of Awards Committee (2014-18).
In the 1980s – served as Chair of the Budget & Finance Committee, National Gifted Children Committee, Site Selection Committee.
International Mensa
3 yrs – member of International Board of Directors (IBD).
1 yr – International Mensa Treasurer.
Orange County Mensa
President 4 times (1980-81, 1982-83, 1996-97, 2011-12).
Served twelve additional terms on the OC Mensa Board in other positions.
RG Chair – 1982.
Cultural Experience Chair – 1984.
Program Chair – 2012 RG.
Vice Chair & Program Chair – 2013 RG.
Chair of many OCM Anniversary Events.
Served as OCM Ombudsman, Bylaws Chair, Financial Review Chair, Program Chair, and Nominating Committee Chair.
Under the pseudonym of Colonel Foolry, wrote a monthly puzzle column for the Oracle for several years in the 1980s, as well as for seven years through March 2018.