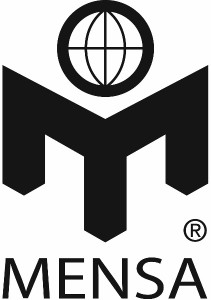 Mensa is an international not-for-profit society in which the sole qualification for membership is a score at or above the 98th percentile on any of a number of standard IQ tests.
Mensa welcomes people from every walk of life whose IQ is in the top 2% of the population, with the objective of enjoying each other's company and participating in a wide range of social and cultural activities.
The word "Mensa" means "table" in Latin. Mensa is a round-table society, where race, color, creed, national origin, age, politics, educational and social background are irrelevant.
About American Mensa
More than 50,000 members
More than 125 Local Groups
Established in 1960
Members receive the Mensa Bulletin, published ten times per year
Members have the opportunity to network and connect online with other members throughout the U.S.
More than 100 SIGs (Special Interest Groups)
Our Annual Gathering (national convention) is held each year in a different city in the U.S., usually the first week in July.
About the Mensa Education and Research Foundation
Founded in 1971, the Mensa Foundation is a philanthropic, nonprofit 501(c)(3) organization committed to the pursuit of excellence in human intelligence.
Mission and strategic focus is directed at scholarships, education, and awards.
Publishes the Mensa Research Journal.
The Mensa Colloquium is an annual day-long educational event on a major issue of long-range importance to society.
Find out more about the Mensa Foundation.
About Mensa International
About 110,000 members in 100 countries
Founded in England in 1946.
SIGHT: The Service of Information, Guidance and Hospitality to Travelers allows members to enjoy the company and hospitality of other Mensans when traveling throughout the U.S. and more than 40 other countries.
Learn about the history of Mensa.
Find more on International Mensa.
About Orange County Mensa (OCM)
Find more on Orange County Mensa.
Get Social with Mensa
Facebook: https://www.facebook.com/AmericanMensa
Twitter: https://twitter.com/americanmensa
Google+: https://plus.google.com/+americanmensa
These pages and all content Copyright 2014 by Orange County Mensa, all rights reserved. Mensa® and the Mensa logo (as depicted for example in U.S. TM Reg. No. 1,405,381) are registered in the U.S. Patent and Trademark Office by American Mensa, Ltd., and are registered in other countries by Mensa International Limited and/or affiliated national Mensa organizations. Mensa does not hold any opinions, or have, or express, any political or religious views.